Clothing Optional Resorts in Tampa
So, you are thinking, lets find some Clothing Optional Resorts in Tampa. A quick check on the subject will show you really only have two choices and we will attempt to give you some insights on both. As with most places in sunny FLA. Tampa is really easy and inexpensive  for either a long vacation or a short getaway.  Tampa itself is bursting with fun things to do, like our personal favorite Ybor City, a super cool district of Tampa that is fun and eclectic. Just outside Tampa are two resorts that are not your typical destination spots. If you are looking work on your all over tans, or just want to relax and make some new freinds while unencumbered by clothing there are two contrasting resorts to choose from…so choose wisely.
Located in Lutz, Florida just outside Tampa, is Paradise Lakes Resort. A large mixed bag of communities covering a wide range of phases, the resort has a bunch of different accommodation options. From RVs and cute little bungalows to one and two bedroom condos. They are generally nice enough, but don't look for anything built in the last 30 years. The facilities are nice and clean if slightly dated. The staff was friendy and helpful. The crowd was someway light and varied from friendly to a little clickish, it seems that most of the people we meet lived there and already seemed to have all the friends they needed. One thing for sure, they take their water volleyball very seriously. We tried to join the daily match and, well unfortunately, after a suspicious once over we were told they already had their teams set and bummer the game going on in the losers pool was full up as well…. too bad come back tomorrow maybe you can get in next time we were told… real friendly and welcoming… not. We did meet some nice people and the stay was fun though.
Just a couple miles further from Lutz, FLA is Land o Lakes, FLA and much to my disappointment, no there was no giant butter factory there. What they do have is Clothing Optional Resorts in Tampa style, again a large clothing optional resort that is, as far as we can tell, pretty much the opposite of Paradise Lakes. Caliente seems more upscale and more like a modern resort. The amenities are plentiful and again all top notch. While the frienliness of the people at any given place is both relitive and subjective, we really felt more welcome and the  crowd seemed younger and dare we say sexier.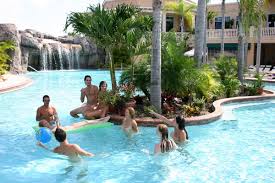 The late night party seen was much wilder and the bar/dance floor was significantly more active. We really liked Caliente a lot. It was a beautiful high end resort  with a lot of attractive people haveing fun, who could ask for more?
We meet a lot of great people and in many conversations people were eager to bring up the subject of "what they were" ….  Singles or couples wanted to make clear what they were getting naked for. Communing with nature, feeling free, wanting to soak in the rays with no tan lines and the Life Style "swingers" who were looking to meet new people with the possibility of hooking up. I think one of the main differences in the two resorts is that Paridse Lakes is more geared to the Naturalist crown and Caliente is more for the party loving Life style crowd. Please feel free to try them both out and see what better suites your desires. Either way you will definatly come away with a great tan.
Clothing Optional Resorts in Tampa
We know you will enjoy…